Stainless Steel Scrap Catch Sink Waste Arrestor 90mm
SSBW
MAS Sink Waste Arrestor Scrap Catch with 90mm outlet.
The function of this sink waste arrestor is to filter kitchen food scraps and waste from passing through to your plumbing pipes, preventing clogging.
Solid food particles will collect inside the inner catch basket, then easily lift the basket out to empty the solids into a waste bin.
This eliminates the build-up of rotting food or clogging around your plumbing pipes.
Environmentally friendly, an affordable water waste strainer, aesthetically pleasing to compliment your kitchen design, and easy to clean.
Sydney waterboard approval No. 205-3481.
Watermark 23228.
Features
Outlet: 50mm BSP.
Fits: any standard 90mm sink outlet hole.
Lift out basket and fixed secondary strainer.
Material: 304 grade stainless steel inner construction.
Sealing basket can also be used as a plug if required.
Spare Parts
Plug only:  SSBW-P.
Strainer Basket only: SSBW-B.
Another Scrap Catch Option: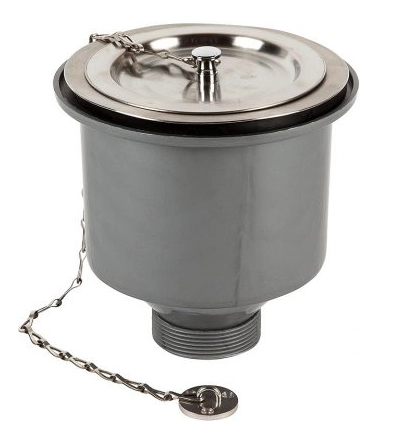 Scrap catch 125mm
*90mm waste outlet can be punched and recessed ex. MAS Head office Brisbane.